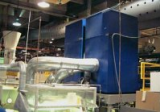 The Hydrotron Series of Wet Dust Collectors
Designed by Professional Engineers. For more than twenty years, Hydrotron Wet Collectors have been providing safe dust collection for clients across America, including aircraft manufacturers, military bases, medical implant producers, and metal fabricators. This line of wet dust collectors was developed by Filter 1 Clean Air Consultants, design engineers and manufacturers of industrial dust collection and air filtration equipment. Since Filter 1 has also specialized in downdraft benches and environmental control booths, it has been a natural fit for the Hydrotron series of wet collectors to include fully integrated wet downdraft tables and dust control booths. Filter 1 also offers custom engineering services.
Distributed by Air Cleaning Specialists. Because Hydrotron Wet Dust Collectors have always been distributed through a nationwide network of industrial air specialists, Hydrotron users have the added advantage of full service and support by local experienced wet collector specialists, from selection to installation to any servicing needs that may arise. Hydrotron distributors also work closely with Filter 1 to provide any needed custom design or optional features.