Dust Control Booths
Advantages
Booth enclosure provides contaminant control.
Integral lighting and sound insulation enhances work environment.
Mark II Series provides front clean-out so booth may be placed against wall to conserve space.
Wetting of volatile dust and heavy sparks eliminates fire risk.
Meets

OSHA

and

NFPA

regulations for dust removal within the building.
No expensive filters to replace.
Re-circulates filtered air for savings on cooling and heating costs.
Automatic fill system utilizes a pressure sensor system for a reliability unaffected by debris in the water.
Optional "Push-Pull" Regain Air System maximizes worker comfort and visibility.
Custom features and sizing available.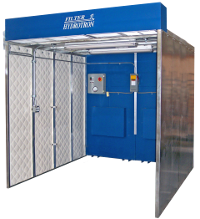 Hydrotron
HPB

Wet Dust Booth Series

The Hydrotron HPB Wet Dust Control Booth is a self-contained environmental control booth that prevents dust from migrating into adjacent work areas and draws it directly into the water filter system of one or more integral wet collector modules. Immediately wetting the dust and thereby reducing the risk of fire, our wet dust control booths also meet OSHA and NFPA standards for dust collectors located inside the building. The optional Hydrotron HPB Regain Air System returns a portion of the filtered air through a plenum across the top front of the booth, creating a "push-pull" effect for velocities of 400 to 800 FPM in the center working area of the booth.
Features
Minimum of 300

FPM

Capture Velocity in the Center Zone Working Area
Direct Drive/Non-Overloading Fan with Outlet Damper
Interior Baffle Section
Mist Eliminator Filters
Magnahelic Gauge
Electronic Water Level Control with Pressure Sensor System
Construction of Galvanized Steel with Cold Tar Epoxy Coatings to Interior Wet Surfaces
Industrial Enamel "Gulf Blue" Coating on Exterior
Florescent Dust-Tight Lighting Fixtures
Interior Fiberglass Sound Insulation
Options
"Push-Pull" Regain Air System for Increased Capture Velocity to 400/800

FPM

Slotted Roofs for Crane Loading of Parts
Construction of 18 ga. Galvanized Carbon Steel or Stainless Steel

HEPA

Safety Filters w/ Alarms
Explosion-Proof Motors
Custom Paint
Overflow / Low Water Cut-off Alarms
Custom Dimensions of Enclosure

MII

Series — Compact Collector Modules & Front Clean-Out
HPB Wet Dust Booth Series:
| MODEL | CFM | HP | HxWxD |
| --- | --- | --- | --- |
| HPB6-1-1x10 | 5,500 | 10 | 7.5'x6'x154" |
| HPB8-2-2x10 | 11,000 | 2x10 | 7.5'x8'x154" |
| HPB12-2-2x10 | 11,000 | 2x10 | 7.5'x12'x154" |
| HPB16-3-3x10 | 16,500 | 3x10 | 7.5'x16'x154" |
| HPB20-4-3x10 | 16,500 | 3x10 | 7.5'x20'x154" |
| HPB24-5-4x10 | 22,000 | 4x10 | 7.5'x24'x154" |
| HPB28-5-5x10 | 23,500 | 5x10 | 7.5'x28'x154" |
| HPB30-6-5x10 | 27,500 | 5x10 | 7.5'x30'x154" |
| HPB36-7-6x10 | 33,000 | 6x10 | 7.5'x36'x154" |
HPB MII Wet Dust Booth Series:
| MODEL | CFM | HP | HxWxD |
| --- | --- | --- | --- |
| MII HPB8-1-1x10 | 6,000 | 1x10 | 7.5'x8'x128" |
| MII HPB12-1-1x15 | 9,500 | 1x15 | 7.5'x12'x128" |
| MII HPB16-2-2x10 | 12,000 | 2x10 | 7.5'x16'x128" |
| MII HPB20-2-1x10+1x15 | 15,500 | 1x10+1x15 | 7.5'x20'x128" |
| MII HPB24-2-2x15 | 19,000 | 2x15 | 7.5'x24'x128" |
| MII HPB28-3-2x10+1x15 | 21,500 | 2x10+1x15 | 7.5'x28'x128" |
| MII HPB32-3-1x10+2x15 | 26,000 | 1x10+2x15 | 7.5'x32'x128" |
| MII HPB36-3-3x15 | 28,500 | 3x15 | 7.5'x36'x128" |
For more about the features and options available, see
Hydrotron Wet Collector Dust Control Booths»