Downdraft Tables
Advantages
Clear containment enclosure provides contaminant control.
Booth is available as a single or double (back-to-back) workstation.
Optional "Push-Pull" Regain Air System enhances worker comfort and visibility.
Wetting of volatile dust and heavy sparks eliminates fire risk.
Meets

OSHA

and

NFPA

regulations for dust removal within the building.
No expensive filters to replace.
Re-circulates filtered air for savings on cooling and heating costs.
Automatic fill system utilizes a pressure sensor system for a reliability unaffected by debris in the water.
Custom features and sizing available.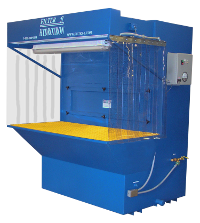 Hydrotron
DHYD

Wet Downdraft Table Series

The Hydrotron DHYD Wet Downdraft Table is a self-contained workstation with an integral water dust collector, drawing the dust directly into the water filter system. Immediately wetting the dust and thereby reducing the risk of fire, our wet collector downdraft tables also meet OSHA and NFPA standards for dust collectors located inside the building. The DHYD is available with one or two (back-to-back) work surfaces; each work surface may be equipped with transparent sides for containment and a regain air plenum at the top. The DHYD's optional regain air system enhances capture velocity by returning a portion of the clean, filtered air through a plenum across the top of the station to "push" the dust away from the worker's breathing zone while it is simultaneously "pulled" into open table-top inlet.
Features
Single or Double (Back-to-Back) Work Stations
Direct Drive/Non-Overloading Fan
Removable Clear Plastic Inspection Door
Interior Baffle Section
Mist Eliminator Filters
Magnahelic Gauge
Electronic Water Level Control w/ Pressure Sensor System
Construction of Galvanized Steel w/ Two-Part Cold Tar Epoxy Coatings to Interior Wet Surfaces
Industrial Enamel "Gulf Blue" Coating on Exterior
Options
"Push-Pull" Regain Air System
Stainless Steel Construction
Clear Strip-Curtain Sides

HEPA

Safety Filters w/ Alarms
Explosion-Proof Motor
Custom Paint
Overflow / Low Water Cut-off Switch
Custom Sizing
DHYD Single Station Series:
| MODEL | CFM | Dimensions DxW | HP |
| --- | --- | --- | --- |
| DHYD1-30-5-4 | 3,000 | 1 Table 30" x 48" | 5 |
| DHYD1-30-5-3 | 3,000 | 1 Table 30" x 36" | 5 |
| DHYD1-30-5-4-3 | 3,000 | 1 Table 36" x 48" | 5 |
| DHYD1-30-5-5 | 3,000 | 1 Table 30" x 60" | 5 |
| DHYD1-30-5-6 | 3,000 | 1 Table 30" x 72" | 5 |
| DHYD1-50-10-4 | 5,000 | 1 Table 30" x 48" | 10 |
| DHYD1-50-10-4-3 | 5,000 | 1 Table 36" x 48" | 10 |
| DHYD1-50-10-5-3 | 5,000 | 1 Table 36" x 60" | 10 |
| DHYD1-50-10-6 | 5,000 | 1 Table 36" x 72" | 10 |
DHYD Double Station Series:
| MODEL | CFM | Dimensions DxW | HP |
| --- | --- | --- | --- |
| DHYD2-30-5-4 | 3,000 | 2 Tables 30" x 48" | 5 |
| DHYD2-50-10-5-3 | 3,000 | 2 Tables 36" x 60" | 10 |
| DHYD2-50-10-5 | 3,000 | 2 Tables 30" x 60" | 10 |
| DHYD2-50-10-4 | 5,000 | 2 Tables 30" x 48" | 10 |
| DHYD2-50-10-4-3 | 5,000 | 2 Tables 36" x 48" | 10 |
| DHYD2-50-10-5-3 | 5,000 | 2 Tables 36" x 60" | 10 |
| DHYD2-50-10-6 | 5,000 | 2 Tables 30" x 72" | 10 |
For more about the features and options available, see
Hydrotron Wet Collector Downdraft Tables»